See on Scoop.it – Homelessness, Housing First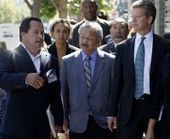 San Francisco Chronicle
SF gets a C for progress on homelessness
San Francisco Chronicle
Credit San Francisco Mayor Ed Lee for his candor. Last week, Lee admitted that he'd only give his administration a C on the issue of homelessness.
Marvin Heery's insight:
Interesting that the Mayor of SF grades the City herself! That's great because it's the first step to progress.
The challenge is that City governments often rely on service providers to make it happen. This Mayor not only recognizes the issues she also knows about the need to address specific populations & which need focus to move forward.
Just like when an addict admits he has a problem is the first step to recovery.
So, as always, what does Savannah's Mayor believe our grade is? But more importantly, how is she facilitating (thru the City Manager's Office) the resolution of the many issues raised by the Assessment Report?
Community engagement, accountability & oversight were called for.
To this date nothing meaningful has taken place.
As discussed in a Public Hearing last Nov 1, 2012 & discussed in a post on our blog, we have not yet addressed a meaningful discussion on Housing First, a controversial topic in the Public Hearing. It was accused of being a "revolving door" by the existing Interim Director of the Homeless Authority! The now departed CEO of Union Mission was on the "stage" with her, ready to make comments about Housing First only to be shutdown by the Mayor.
Post about last years Public Hearing on Homeless Services & Plan submission to HUD:
http://homelessnessinsavannah.wordpress.com/2013/02/20/a-new-day-for-the-homeless-authority-but-much-more-to-address-before-theyre-on-track-again-savannahs-homeless-authority-balances-budget-cites-new-day-savannahnow-com-mobile/
It is extremely disappointing that we have not taken meaningful steps to create the Strategic Plan called for in that Public Hearing by Alderman & Mayor Pro Tem Van Johnson.
So I could give us a grade but my grade isn't important, it's the community response & engagement that's missing!
When can we expect a serious engagement in Savannah?
New Board Chairmen & members, seemingly filled with Downtown Neighbors & not with homeless advocates doesn't seem to be getting us where we need to be yet.
We've been implicitly "promised" a steering committee to form a new Ten Year Plan (or Strategic Plan) that engages the whole community. It was on target to start up in September, members had already been selected, had their first meeting in June & to date there has been no communication to the members who were chosen & volunteered for that process of what the next step will be other than we're figuring out (internally) what we do today & what HEARTH means to us.
Those questions will likely be revisited with input from other perspectives when the community gets engaged.
So, let's get on with it! People's lives & housing are at stake.
A full-on neglect of addressing Housing First in our community is shameful when compared to the successes other communities write about almost daily!
See on www.sfgate.com