See on Scoop.it – Homelessness, Housing First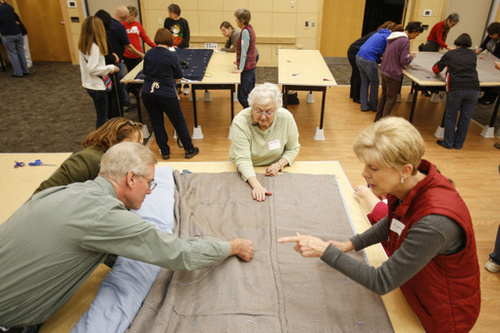 Jody Lewis had just poked a needle and thread into layers of blankets, sewing what would become one of the sides of a sleeping bag to be donated to the homeless, when another volunteer handed her a blank card.
Marvin Heery's insight:
This whole enabling thing that street ministries & the faith community gets shackled with regarding making it "comfortable" for people to "remain" homeless needs some serious attention.
This article gets to the heart of it with this quote: "We're not enabling people," she said. "We're sharing what we have. These are the basic needs of life: warmth, and staying clean."
That said there is significant value in the conversion about what else we should, could & must be looking toward accomplishing to truly end people's homelessness "together"!
There are a couple of books we recommend to get the dialog pumped up, we've shared them elsewhere, but here you go: "Toxic Charity" & "When Helping Hurts".
A lot of this discussion goes to the needy vs greedy topic, but we as people of faith can't judge people on that basis. We must meet everyone where they are, volunteers & tjose we help. We can only work toward making them feel grateful for their blessings, no matter where they come from & work to help them see that giving back & being a volunteer themselves is a helpful & life-changing exercise.
Much more could be written but let's get started on a meaningful discussion & get to what truly matters.
See on www.dispatch.com